Car Rental Info
Hawaii Checklist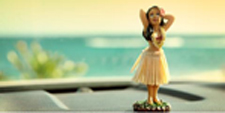 Hawaii Rental Car Checklist. We have put together several Hawaii car rental tips calling on our 30+ years of experience, we hope you find them useful.

Availability this year is the biggest issue! We suggest placing a hold on something right away. Keep monitoring our site for price drops and modify if/when that happens (no obligation to do so).
We are currently saving clients huge amounts of money by prepaying. The speed bump is availability on the prepaid side is way lower then normal this year. If interested, check your availability by calling 1-800-655-7989 or using our Custom Quote Form.



AAA

Cut your car rental bill with your Airline reservations.

I've been booking car reservations for clients for decades, saving money on your car rental starts when you're booking your airline reservations. Watch your arrival & departure times, when possible, book your departure time by or before your arrival time to avoid overtime/additional day charges on the vehicle. (Typically, it will take 30 minutes to an hour after you land to get to the counter, and you'll want to be at the airport 1 to 2 hours early).

Also, when booking multiple islands,

you'll normally receive a weekly rate whether you book 5, 6, or 7 days. If your staying 5 days per island, you could be paying for 7 days on each island

.


During Peak Season dates & Holidays

consider asking us for a prepaid rate quote. It's not unusual to p

repay and save up to 50% on peak rental dates ~ When do you know its a peak rental period? Anytime Economy cars are running between $175 & $300+ weekly, plus taxes. Prepay options are not just for the holidays, but anytime rates soar. We often save folks up to 50% on SUVs, Minivans and Jeep Wranglers. Prepaid rate quotes are personally worked on by us, use our Quote Form, or call 800-655-7989 to speak with an agent.


Start with a firm itinerary

in front of you.

One island, or multi island, have your location(s), dates, rental times and vehicle class all ready to go when booking. Book early, place a reservation at the best price you find. If you're shopping around and find an excellent rate, place a reservation, first check if cancellation penalties exist. This can also apply in a peak rental period, prepay situation, if you find an excellent rate, check the early cancellation penalties. Often they're only $25. It's a little more of a gamble, but if you can save $40, $60 or $100 on that rental by booking early. And, if you don't find a lower rate, you don't lose anything and you will avoid sold out scenario's.


Smallest is not always the cheapest! Often the Economy & Compact classes are overbooked. This is not the fault of the car rental agency, rather people book cars & simply do not cancel or show up, leaving rental agencies with a conundrum. It's a fine line these agencies have to balance on when it gets busy. As a result, you may find the Midsize, Fullsize or sometimes specialty vehicles substantially lower because availability is lower on the smaller classes. Since the average is over a 20% no show, no cancel rate, managers at these facilities have to navigate through this.

Insider look

into sometimes offered promotions: Alamo has Drive Happy, Dollar has The Lock and Low, Thrifty the Wildcard, Hertz the Managers Special these all feature an upgraded vehicle class at a low rate. I

t's up to the management at the rental agency as to the vehicle class provided.

(As locations try to balance out inventories, you get a promotional rate and they even out there fleets). Knowing this should give you a glimpse into how challenging and stressful running one of these franchises must be.


It's the little things in life that add up. I am often asked if GPS, car seats or insurance are included in the rental? That would be no. My last couple of phones were GPS enabled, if yours is, simply buy a phone mount and your good to go. You will have to weigh out the pros and cons of lugging your car seat(s) with you. Issues to consider are safety, cost and convenience. It's an inconvenience but you will be motivated by knowing the safety rating, cleanliness, and what your budget can take. Many major US air carriers allow you to bring car seats onto the plane for no additional charge as long as it meets the guidelines of the air carriers. Check with your Airline. And insurance, well that's such a big subject, we have a separate article that covers many nuances.


Stop overpaying for car rentals! Has been our motto for decades. AA Aloha Cars R Us Inc, also widely known as Hawaiicarrental.com has been in business since 1986. We are here to take care of you car rental requirements as well as connect you with the largest selection of activities on the internet, all with a low price guarantee! You can use our guidance and services to book your car or just window shop.


Look beyond the price.

Think carefully about how many drivers you actually need, it's an unpleasant surprise when you expect to have driving privileges for your spouse, etc only to find the counter agent with other ideas. It's often possible to have a similar rate with a different company allowing for an additional driver(s) at no charge. So, do your due diligence before you get to the counter, you'll be glad you did.




Why do quotes have estimated totals?

The reason why you see estimated totals on most, if not all quotes is. If Hawaii has a tax or fee structure change, it affects the bottom line of all existing reservations. Technically, if Hawaii passes new legislation, tax/fees can change at anytime.




One Way Fees.

For convenience sake or just to see more of the island, consider a one way rental. Depending on the island/locations, expect between $15 and $85 one way fee. At times, we can waive Kona to Hilo, so please inquire with us.





Young Driver Fees.

Drivers between the ages of 21 and 24 in Hawaii are allowed to drive and rent cars, they are subject to a daily fee. We provide a substantial daily discount for under 25. We have an updated contract with Thrifty & Dollar where renters at 20-24 are allowed and there is only a $8 daily, young driver fee. (Thrifty & Dollar only, fee is added at the counter not included in the total).





Early or Late Return Fees.

By returning early or late, you change the length of the rental period and are subject to the agencies policies. Two examples of rate changes: If you book a month and stay a week, do not expect a prorated week. Book a weekly rate for a 5 day rental, return a day early, in most cases you'll be charged a daily fee. Running a little late? Most agencies have short grace periods that allow you to return the car without a fee if you're late by less than 30 minutes. Many agencies are enacting (or considering) a early return rental fee, if you must return the car early or late, contact the rental agency direct before you get to the counter, so you'll know what to expect.




Why Should You Use Our Service? Rent the same Hawaii rental car for less money!
Read more in our Top 10 Hawaii Blog.