Select Island
Welcome to Oahu
Oahu is truly at the heart of Hawaii, as timeless beauty collides with the modern world. Waikiki with its 1.5-square-mile boundaries is the glittery playground of the Pacific. More than three-fourths of Hawaii's seven million annual visitors come to relax on her shores. With a little exploration, you'll discover Waikiki is just the beginning of your travels on Oahu. You'll find world class golf, spas, award-winning restaurants and outstanding shopping.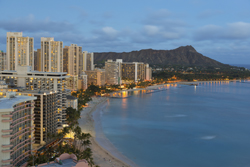 Oahu Activities ~
Oahu is 44 miles long, 30 miles wide, 112 miles around and is the third-largest island in the Hawaiian chain
Oahu nicknamed "The Gathering Place"

is the third largest island in the chain, some 900,000 people inhabit some 597 square miles, that's more than three quarters of the State's population. Oahu's population is a veritable melting pot of east and west cultures. Each steeped in its own rich traditions.


What you should know…. Every time I go to Oahu, I always come back with new memories. There is so much information on Oahu to be found, frankly, it all sounds very similar. I decided to share a few of my favorite spots after visiting for almost 40 years. The Pearl Harbor Visitor Center includes two museums that tell the story of the attack on Pearl Harbor and World War II. Still to this day, what blows my mind was actually witnessing drops of oil float to the surface. Unbelievably, The USS Arizona continues to spill up to 9 quarts of oil into the harbor each day. Mind boggling, but even more, standing side by side with veterans at the memorial, tops my personal list of things I have done on Oahu.


I love Wet N Wild,

it's a great day for kids of all ages... This is Hawaii's only water-themed amusement park. With more than 25 water rides, this water park is sprawled out over 29 acres. Power down the Tornado, which catapults riders through a 130-foot (40-meter) tunnel through swirling, raging waters and down into a splash pool. The park also features a winding lazy river, Water World, an interactive children's area filled with fountains, water cannons, mini-slides and a giant wave pool.


Pristine Hanauma Bay

remains one of the state's most popular and widely photographed attractions. I have to put this high on my list because no matter your skill level with snorkeling, you will find a comfort zone here.. I'm a certified diver and I love coming here. On any given day you may see yellow tangs, trumpetfish, angel fish, Humuhumunukunukuapuaa (the state fish of Hawaii) butterfly fish, turtles and many more. My tip is to ask the lifeguard where you should go based on your comfort level.


One of Hawaii's best swimming beaches

is Lanikai "heavenly sea" Beach….Lanikai Beach is only about half a mile long, it's Ideal for swimming and snorkeling.. Imagine perfect soft powdery white sand, clear blue water with gently breaking waves, with two islands in the distance. The protected lagoon at Lanikai Beach is like a big swimming pool making it perfect for children.


The North shore…. People flock here to witness the power and fury of the big waves and to marvel at the surfers that dare to harness that power for their own entertainment and yours.


Stretching for more than 7 miles,

the beaches of the North Shore host the world's premier surfing competitions. During the winter months, the swells at world-famous surf spots like Waimea Bay, Pipeline, and Sunset Beach reach 30 feet or more. My tips are to watch from a distance, not a place to wade in the water as the undertow can take you out to open water before you know what hit you. Oh yeah, one of my favorite pit stops is a must, go get yourself a shave ice at Matsumoto's Shave Ice in Haleiwa town.


Locals know…

The food traditions you might see for the first time are simply everyday routines for many of us locals. The famous "plate lunch"!! A Plate lunch starts with two scoops of rice, macaroni salad and anything from beef teriyaki, mahimahi, kalua pork, Korean barbecue or chicken katsu.. It's a mix of culture and cooking, it's a pan-Asian influence on Hawaiian cuisine, with roots in the Japanese bento, this makes the plate lunch unique to Hawaii. Down Kapahulu Avenue in the Waikiki area of Honolulu. you'll find a couple of Hawaii's institutions. Try famous "plate lunch" at Rainbow Drive Inn. And for the best shave Ice I have ever had Waiola Shave Ice and Bakery.


In Waikiki, you can get surfing lessons,

in the very spot where Duke Kahanamoku who is widely credited with popularizing the ancient Hawaiian sport of surfing. How cool is that!


On Oahu, Kapiolani Community College is known for its culinary school but, it's home to a weekly farmers market. The biggest Farmer's Market in Honolulu. With dozens of vendors selling their wares each week. Purchase top quality beef, seafood, baked goodies, hand-made pasta, local honey, coffee and so much more! Get your gift and souvenir shopping done at the Aloha Stadium Swap Meet & Marketplace, With over 400 merchants, they are open three days a week.


Travel to the eastern tip of Oahu

and hike the Makapuu Lighthouse trail for breathtaking ocean views, you can see Moloka'i and Lana'i on a clear day. Tips: Bring plenty of water and sunscreen. This hike is exposed and this area of the island can be very hot. Bring binoculars if you are here during humpback season (November-April).


Explore Chinatown's bustling 25-acre marketplace markets like the Maunakea Marketplace or the Oahu Market. Groceries are usually cheaper here. You'll find manapua's, roast duck, roast pork, shoyu chicken, char siu, exotic fruits and smoothies. Chinatown has been home to Chinese families dating back to the 1800s. You'll see temples like the Izumo Taishakyo Mission Shrine and the Kuan Yin Temple and curiosities like the "thousand-year old egg."